Winterfell Trek from Dublin
All entrance fees included: no hidden costs
Visit the real location of Winterfell in S01
Old forest, a Tower House and a 12th-century ruin
Stark cloaks, swords and banners for everyone
Lunch not included in your ticket price
Winter is coming! This tour starts in the depths of Tollymore Forest at the location in the first episode where Wills of the Night's Watch finds dismembered Wildling bodies in the snow. Your guide will use video clips, screenshots and VFX clips to show how scenes were made. After lunch the tour visits Old Castle Ward, location of Winterfell when King Robert asks Ned to be Hand of the King. Finally we visit the ruins of Inch Abbey where Robb Stark's bannermen pledged fealty to him as 'the King in da Norf!'
In the trunk of the coach we have Northern cloaks, metal swords and hand-painted Stark banners. The is the only coach tour from Dublin that visits these locations, away from the tourist crowds. Don't miss this chance to explore the real Westeros in Northern Ireland!
Itinerary
07:30 Meeting time
Pickup point is the front door of the Hilton Garden Inn, Custom House Quay, Dublin D01 V9X5.
07:45 Departure time
The coach will leave Dublin city centre via the Port Tunnel.
Comfort Stop at Castlebellingham
Comfort stop for 15 mins at Castlebellingham Applegreen service station on the M1, northbound.
Morning trek in Tollymore Forest (3km trek)
Arrive at Tollymore Forest Park. Covering 630 hectares (1,600 acres), this forest is the backlot for many key scenes, such as the pit where Wills finds the dismembered bodies in the snow, Tyrion and Jon's campfire on their journey north to the Wall and the bridge where the Starks discover a dead direwolf and her pups.
Lunch at the Lobster Pot, Strangford
We pass around a menu and order sheet in the coach to pre-order hot food in the Lobster Pot pub in Strangford. This pub lunch is not included in your ticket price. You may of course bring a packed lunch instead.
Afternoon visit to Winterfell
Visit Old Castle Ward, the 16th century Tower House and stableyard that were used as the film location of Winterfell in season one. Nearby, on the wooded shores of Strangford Lough, a 15th century Tower House (small castle) served as one of Walder Frey's Twins and as the location of Robb's Camp in the Riverlands.
Inch Abbey: King in the North
Photo stop in the ruins of the 12th century Cistercian Abbey where Catelyn and Robb hear terrible news from King's Landing, and Robb's bannermen pledge fealty to him as the 'King in the North'.
19:00 Arrive back in Dublin
Arrive back at the Hilton Garden Inn, drop-off of all passengers.
Route Map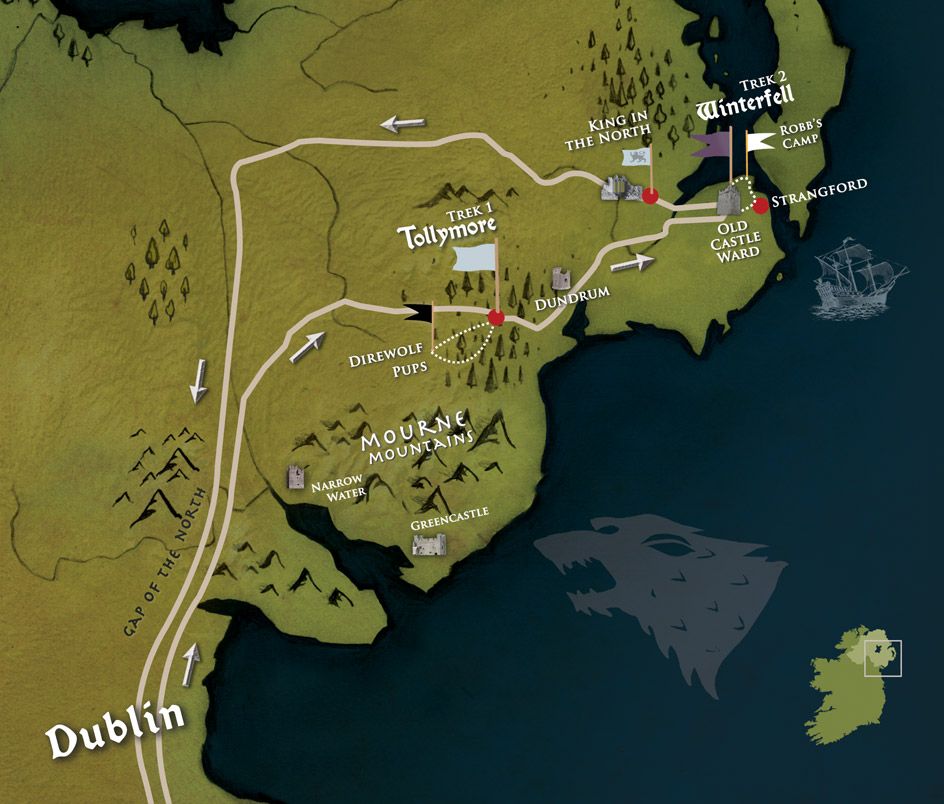 No passport or UK visa required!
Ireland is in the EU, but Northern Ireland is part of the UK. On this tour, you will leave the EU at 9:15, enter the UK then cross the border back into the EU at 18:00. However, you do not need to present any passport, national ID card or UK visa on this tour. Here are four points to help you understand why you don't need travel documents.
Entering the UK via any port or airport will involve passports and visas checks, but the land border between Ireland and Northern Ireland has so many crossing points and so many people cross it in both directions every day for work, school, shopping, etc. that in 1998 it was agreed that checks on the movement of people across the border would be permanently removed, in both directions.
The terms of the UK's Withdrawal from the EU guarantees that the 1998 agreement remains in place, even now after Brexit.
Our coach will cross the border from Ireland into Northern Ireland at 100 km/h, the speed limit on the motorway from Dublin to Belfast.
Starting in 2024, the UK will require all visitors who are not Irish or UK passport holders to present an Electronic Travel Authorisation (ETA) or a UK visa at all ports and airports into the UK, but not at the land border in Ireland, for the reasons explained. Indications are that the ETA will only be needed for those staying in the UK for 72+ hours.
So to conclude – entering Ireland/EU through Dublin port or airport involves passport and visa checks. Entering the UK through Belfast port or airport involves passport and visa checks. But crossing the border between Ireland and Northern Ireland has no checks, and never will have any checks in the future. This is why we say you will not need any passport, national ID card or UK visa to do this day tour from Dublin to Northern Ireland and back to Dublin.
Practical Information
Although this is a coach tour, please note that this coach tour also includes two locations treks, one in the morning at Tollymore forest (3kms), the other in the afternoon at Castle Ward Estate (3kms).
This tour is not recommended for young children or anyone with limited mobility.
Please wear outdoor footwear, bring plenty of water and dress appropriately for the Northern Irish weather.
Please note : Lunch is not included in the ticket price
We offer 10% off for groups of 6+ adults or 6+ students
We will fully refund your payment card if you cancel up to 24 hours before your departure time. We will charge a cancellation fee of 100% if you cancel your booking within 24 hours of the departure time.
Under 18 Policy
Please note that:
1. Game of Thrones® is full of adult content and is rated 18+ in the UK and Ireland.
2. Our tours include walking treks, often over uneven surfaces, and
3. We have swords and other props on the coach.
Accordingly, we do not permit children under the age of 12 to do any of our tours. This is why there is no children's ticket price. If you purchase a ticket for a young person between 12 and 18, we need a written waiver from a parent or guardian. Please email us at [email protected], stating the Booking ID and young person's age.