Iron Islands & Giant's Causeway from Derry
All entrance fees included: no hidden costs
Your guide was an extra in Game of Thrones®
Iron Born costumes, swords and banners for everyone
See how locations were used in the show via tablet clips
Lunch not included in your ticket price
Private groups 1-33 pax
£1,200 per group
One of our most highly-rated tours on TripAdvisor, described by Buzzfeed in August 2017 as the 'most badass Game of Thrones® tour in the world', this immersive experience travels across the north Antrim coast taking in lots of filming locations. These include Dragonstone beach where Melisandre burned the effigies of the Seven Gods, Lordport harbour in the Iron Islands, the Giant's Causeway UNESCO World Heritage site and the mysterious Dark Hedges.
Your guide will be an extra from Game of Thrones® and will use screenshots and tablet clips throughout the day to show you how each location was used in the series.
We also provide beautifully crafted leather Iron Born cloaks, hand-painted banners and metal swords and axes so get ready to storm the beach with your fellow Iron born!
My husband and I are huge Game of Thrones fans and this experience was amazing. Brian, our tour guide, was incredibly knowledgeable and full of energy. I could not recommend this tour more!
Read review
Itinerary
07:45 Meet the guide in front of the Visit Derry Information Centre
The coach will arrive around 07:45 and the guide will greet everybody, check tickets and start loading passengers.
08:00 Departure
Depart from Visit Derry, cross the river Foyle and head west towards Castlerock and Downhill beach.
Burning of the Seven Gods on Dragonstone
Photo stop at Downhill beach which featured in season 2 as Dragonstone beach, where Melisandre burns the effigies of the Seven Gods.
Photostop at Dunluce Castle
Photo stop at the dramatic ruins of Dunluce, perched on the north coast sea cliffs since the 17th century. This castle was used for an establishing shot of Harrenhal in season 3.
Visit the Rope Bridge, Renly's Camp and the Iron Islands Kingsmoot
Visit Carrick-a-Rede rope bridge and Larrybane Chalk Quarry, location of Renly's camp in the Stormlands and the Iron Born Kingsmoot, where Yara and Euron make rival claims to the Salt Throne.
Lunch in the Fullerton Arms
A charming guesthouse with restaurant and pub in Ballintoy on the north coast. See www.fullerton-arms.com.
Visit the Iron Islands
Visit to Ballintoy Harbour, location where Theon comes ashore on Pyke Island, where Theon dedicated his faith to the 'Drowned God', where Ser Davos seeks the help of Salladhor Saan for the Battle of Blackwater Bay and where Gendry escapes Dragonstone in a rowing boat.
Visit the Giant's Causeway
Visit to the UNESCO World Heritage site, the geological marvel of 40,000 interlocking basalt columns, formed in the Paleogene Period, 50-60 million years ago.
Photo stop at the Dark Hedges
Photo stop at the haunting avenue of beech trees, through which Arya and Gendry escape King's Landing.
17:30 Arrival at Visit Derry
Arrival and drop-off of all customers at the Visit Derry Tourist Information Office.
Route Map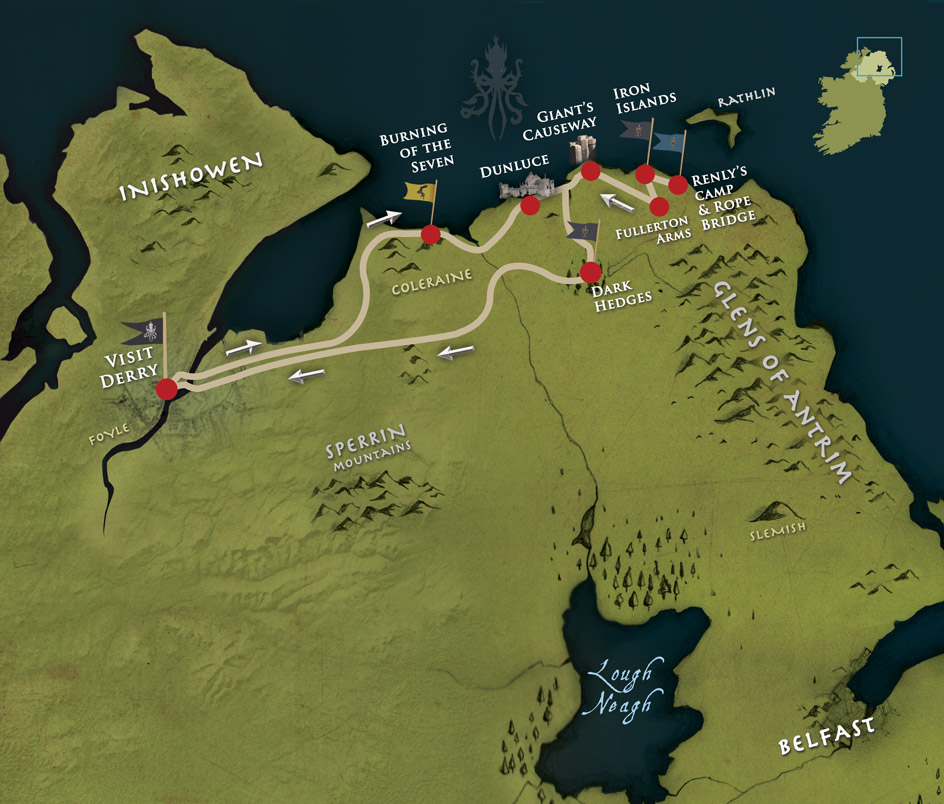 Practical Information
Please wear outdoor footwear and dress appropriately for the Northern Irish weather.
This tour is not recommended for anyone with limited mobility.
Lunch is not included in the ticket price. We pass around a menu and order sheet to pre-order hot lunch in the Fullerton Arms pub. Alternatively if you wish you may bring a packed lunch.
We will fully refund your payment card if you cancel up to 24 hours before your departure time. We will charge a cancellation fee of 100% if you cancel your booking within 24 hours of the departure time.
Under 18s Policy
Please note that:
1. Game of Thrones® is full of adult content and is rated 18+ in the UK and Ireland
2. Our tours include walking treks, often over uneven surfaces, and
3. We have metal props on the coach
Accordingly, we do not permit children under the age of 12 to do any of our coach tours. This is why there is no children's ticket price. If you purchase a ticket for a young person between 12 and 18, we need a written waiver from a parent or guardian. Please email us at [email protected], stating the Booking ID and young person's age.