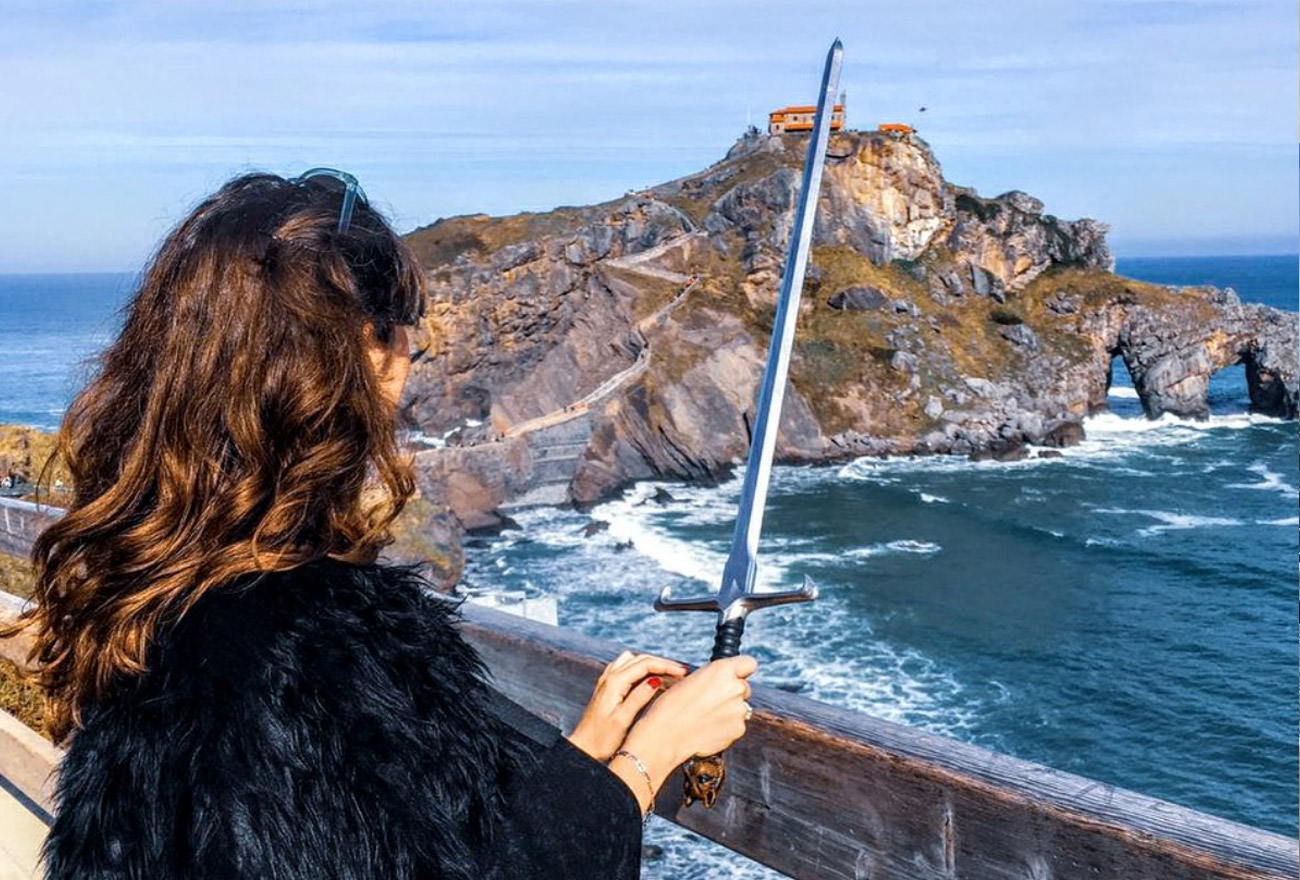 Barrika – La Muriola Beach
Butrón Castle
San Juan de Gaztelugatxe
Bermeo
Itzurun Beach

Enjoy the beautiful filming locations where season seven took place. Dragonstone and parts of King's Landing were filmed in the Basque Country. On this guided tour you will learn not only about what was filmed on each place but also about our local culture and heritage.
Don't miss out the opportunity to visit these filming locations, awarded in 2018 in the category "Outstanding Locations in a Period Television Series" by the Location Managers Guild International.
My sister and I loved this tour. Our tour guides were so knowledgeable about the area, history, and of course Game of Thrones.
Read reviews
Inclusions
Luxury bus
Travel Kit (for Premium ticket holders)
Swords and cloaks for photographs
Knowledgeable guide
Travel Insurance
Exclusions
Lunch/Food
Travel Kit (for Non-Premium tickwet holders)
Tapas/Pintxos and wine tasting in Bermeo
Merchandising
Itinerary
Departure from Bilbao at 8AM
Barrika – La Muriola Beach
(30 minute stay approx)
King's Landing. Here we saw Davos, Tyrion and Gendry. On season seven the Gold Cloaks try to stop Tyrion from leaving King's Landing and when Davos can't buy their silence, Gendry decides to act.
Butrón Castle
(15 minute stay approx.)
Photo stop
While it wasn't featured on Game of Thrones, this castle has a fairy-tale look about it inspired by Bavarian castle models. It is a perfect place to take photos and feel like a lord or a lady of Winterfell.
San Juan de Gaztelugatxe
(2h stay approx.)
Dragonstone. Here is where Daenerys and Jon Snow meet for the first time. In real life, San Juan de Gaztelugatxe is not a big castle but a small hermitage on the top of 241 steps located on the Basque coast.
Bermeo (1h stay approx)
Here we will stop to have some free time to have lunch as Bermeo is very well known for its pintxos, tapas and local wine called txakolí.
Zumaia Flysch – Itzurun Beach
(1h stay approx.)
When we see Daenerys stepping on her true home for the first time, she is actually stepping on a 60 million year old beach. Zumaia's Flysch dates from the mid-cretaceous period to the present, a time period of over 100 million years.
Return to Bilbao at 5.30PM approx.
Practical Information
What should I wear?
We strongly advise to wear comfortable shoes. Not only appropiate for the weather but for the activity.
Sunscreen and/or hats for sunny days.
Raincoat for rainy days.
We also reccomend to carry cash as some places may not accept credit/debit cards.
IMPORTANT:
There will be some areas of difficult access for people with mobility issues. San Juan de Gaztelugatxe has uneven steps and the chapel is 1.2 KM (0.75 miles) away from the drop off point. We leave the choice to walk to the chapel to your discretion. In its place you will be able to see the chapel and enjoy the coastal views from the vewing point.
Additional Information
This tour is operated by Dragonstone Tours and it is not sponsored by HBO.
Children under 13 should be accompanied at all times by their parents/guardians.
Minors cannot book this tour without travelling with an adult.
We strongly recommend people with mobility issues to be accompanied in order to help them on certain parts of the tour.
Cancellation Policy
Cancellations 72h before departure: 10% fee will be charged.
Cancellations less than 72h before departure: 100% will be charged.
We will allow a change of date (subject to availability).
On occasion the stop at San Juan de Gaztelugatxe could be shorter due to weather conditions. For safety reasons the path might be closed. This does NOT mean a cancellation of the tour.